HYDRODUCT® Green Roof Composite
High impact, creep-resistant geocomposite and root barrier for use with GCP waterproofing membranes on green roof applications
Product Description
HYDRODUCT® Green Roof Composites are a highly robust, preformed geocomposite drainage and root barrier sheet system designed for green roof applications. Comprising a high-impact, studded polystyrene core bonded on one side with a non-woven, needle-punched polypropylene filter and root barrier fabric and, on the other side, a non-woven, needle-punched polypropylene separation fabric, the Hydroduct Green Roof Composites provides an economical solution for root penetration protection, drainage, aeration, water storage and membrane protection in an easy-to-install system. The Hydroduct Green Roof Composites are part of a full green roof waterproofing system to include PROCOR® Deck System 3R or BITUTHENE® Deck System.
Use
Hydroduct Green Roof Composites are designed for horizontal green roof applications where soil depths typically range from 3-6 inches. When rain or water enters the growing medium, excess water flows from the growing medium through the root barrier filter fabric into the drainage core. The root barrier, treated with a natural root inhibitor, re-directs the growth of the roots away from the drainage core, preventing penetration into the insulation layer and waterproofing system. Excess water from the growing medium fills the water storage cones in the drainage core, holding it until it is re-absorbed into the growing medium as needed.
Excess water flows through pre-punched holes in the top of the composite allowing water to flow through the drainage core to the collection system. The geotextile root barrier and the geotextile separation layer are securely bonded to the core to prevent intrusion of the fabric into the core during service. Hydroduct Green Roof Composites are available in two depths based on design requirements.
Application Procedures
Safety, Storage and Handling Information
All construction products must be handled properly. Carefully read detailed precaution statements on product labels and the Material Safety Data Sheet before use. Please contact your local GCP representative for further information.
Installation
Hydroduct Green Roof Composites can be placed over the insulation layer or other rigid protection sheet, providing job site conditions allow the composite to remain as placed.
DO NOT place directly on the waterproofing membrane. Additional ballast consideration should be given in high wind exposures. Abut all edges tightly with the excess geotextile placed over the adjacent roll in shingle fashion.
To secure Hydroduct Green Roof Composites around protrusions, apply Preprufe Detail Tape around the protrusion in a picture frame configuration. Cut Hydroduct Green Roof Composites to fit snugly around the protrusion. Press Hydroduct Green Roof Composites core firmly into the Preprufe Detail Tape.
Hydroduct Green Roof Composites should be covered promptly. Do not leave Hydroduct Green Roof Composites exposed to sunlight for more than two weeks. Motor vehicles, construction equipment or other trades should not be allowed directly on the Hydroduct Green Roof Composites.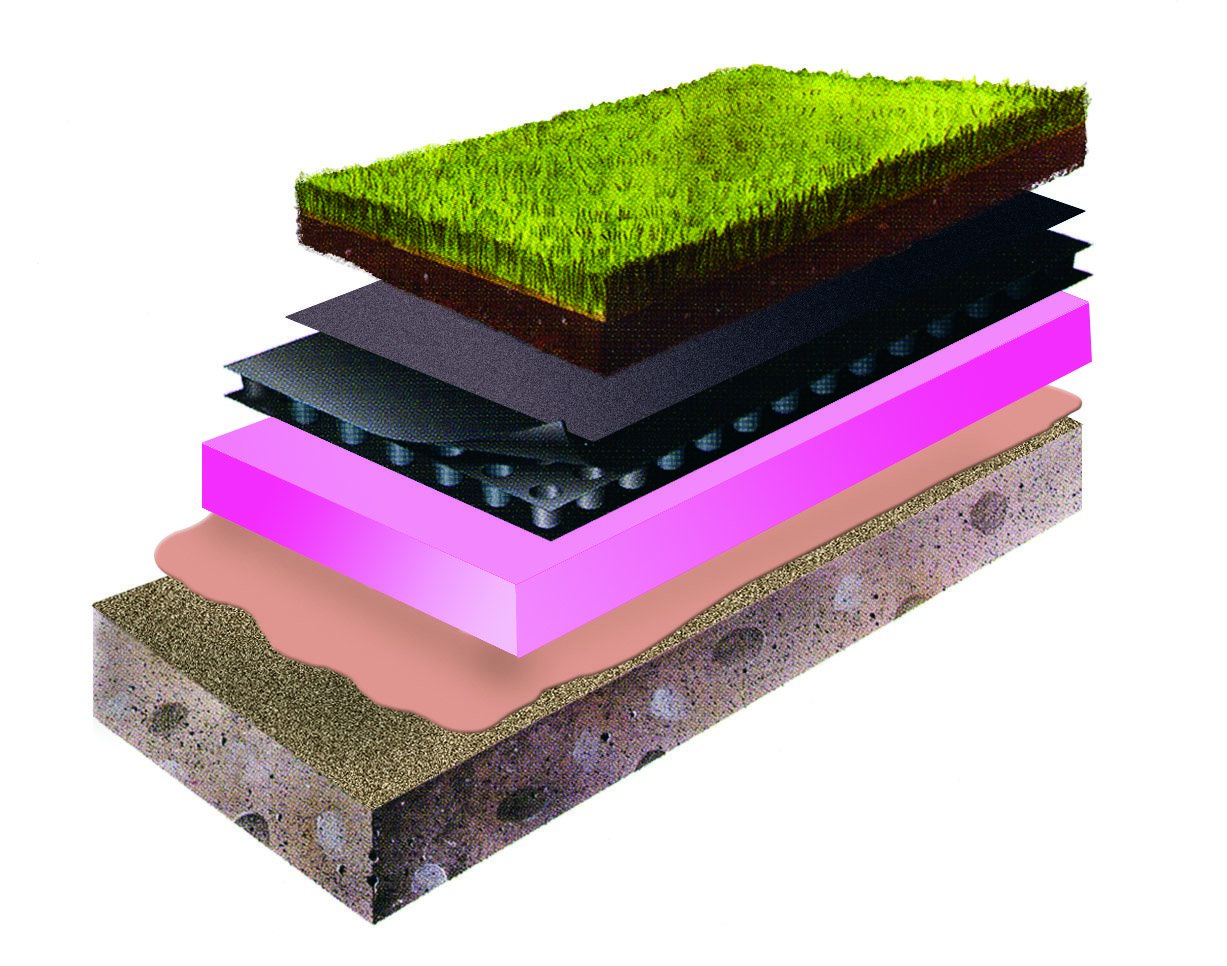 Drawings are for illustration purposes only. Please contact your local GCP representative for specific application details.
|   | HYDRODUCT 500RS | HYDRODUCT 550RS |
| --- | --- | --- |
| Roll Size | 1.2m x 15.2m (18.6 m2) | 0.91m x 15.2m (13.9m2) |
| Packaging | 6 rolls / pallet | 2 rolls / pallet |
| Weight | 18kg / roll | 20kg / roll |
| COMPLEMENTARY MATERIAL |   |   |
| --- | --- | --- |
| Preprufe Detail Tape | 50mm x 15m roll / 16 rolls per carton |   |
Health and Safety
Read the product label and Material Safety Data Sheet before use. Users must comply with all risk and safety phrases. 
Physical Properties
PROPERTY
 TYPICAL VALUE
TEST METHOD

Geotextile & Root Barrier

Hydroduct 500RS
Hydroduct 550RS
 
Material
Polypropylene
Polypropylene
 
Root Barrier Coating
Copper hydroxide
Copper hydroxide
 
Weight
195g / m2
195g / m2
ASTM D3776
Flow Rate
937Lpm / m2
937Lpm / m2
ASTM D4491

Drainage Core

 
 
 
Polymer
Polypropylene
Polypropylene
 
Thickness
11mm
25mm
 
Compressive Strength
718kN / m2
933kN / m2
ASTM D1621 (mod)
Flow Rate (Gradient 1.0)
200Lpm / m2
933Lpm / m2
ASTM D4716
Water Storage Capacity
2.4L / m2
4.5L / m2
 

Geotextile Separation Layer

 
 
 
Material
Polypropylene
Polypropylene
 
Type
Needle-punched, nonwoven
Needle-punched, nonwoven
 
Weight
136g / m2
136g / m2
ASTM D3776
gcpat.sg | For technical information: asia.enq@gcpat.com
We hope the information here will be helpful. It is based on data and knowledge considered to be true and accurate, and is offered for consideration, investigation and verification by the user, but we do not warrant the results to be obtained. Please read all statements, recommendations, and suggestions in conjunction with our conditions of sale, which apply to all goods supplied by us. No statement, recommendation, or suggestion is intended for any use that would infringe any patent, copyright, or other third party right.
Hydroduct, Bituthene and Procor are trademarks, which may be registered in the United States and/or other countries, of GCP Applied Technologies, Inc. This trademark list has been compiled using available published information as of the publication date and may not accurately reflect current trademark ownership or status.
© Copyright 2017 GCP Applied Technologies, Inc. All rights reserved.

GCP Applied Technologies Inc., 2325 Lakeview Parkway, Alpharetta, GA 30009, USA
GCP (Singapore) Pte. Ltd, 25 Tanjong Penjuru, Singapore 609024.
This document is only current as of the last updated date stated below and is valid only for use in Singapore. It is important that you always refer to the currently available information at the URL below to provide the most current product information at the time of use. Additional literature such as Contractor Manuals, Technical Bulletins, Detail Drawings and detailing recommendations and other relevant documents are also available on www.gcpat.sg. Information found on other websites must not be relied upon, as they may not be up-to-date or applicable to the conditions in your location and we do not accept any responsibility for their content. If there are any conflicts or if you need more information, please contact GCP Customer Service.
Last Updated: 2022-09-20
https://gcpat.sg/en-gb/solutions/products/hydroduct-drainage-composite/hydroduct-green-roof-composite